Layman
There's a list of high powered, high profile minsters being investigated by the senate for fraud. This list includes:
Benny Henn
I always wondered how genuine this guy was as I kept hearing stories about how people would go to his shows and see people pretending to faint. All the money he makes he could have helped develop some of those poor communities visited.
Joyce Meyer
I've watched some of her programs and she seems really earnest and genuine about what she's doing. Maybe the money is a strong temptation for her I dont' know. I heard she sold 5 of her extravagant homes after having a story done about her finances.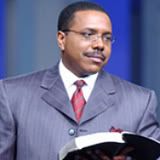 Creflo Dollar
Now he just looks crooked. He says alot of good stuff, but he seems like he's always got some alternative agenda. Check out pictures of his house below.
Paula White
I don't know much about her.
Eddie Long
I always wondered why he's always preaching sermons with these muscle shirts on. He says some decent stuff, but he's also flashy. Check the picture of him below. Even if you don't judge a book by it's cover, he looks kinda pimpish right here.
---
Deacon
Great work Layman! Creflo & Taffi Dollar (their names sound crooked!) are being investigated. Creflo is making a bunch of money and driving some fancy cars! Probably gifts purchased by one of his "Faith Based" friend's organizations. Eddie Long preaches on TV with his skin-tight muscle shirts, 44 inch pythons bulging, 36 inch chest flexing, and thinks he is actually preaching about the Lord! This guy is causing so much lust in his church and the women watching from their homes that he should be ashamed of himself. Shame on the lusters, but more shame on the leader leading them into temptation!

Can you imagine if the US Senate finds out these "Faith Based" people are robbing their congregations blind? Can you see a mass Exodus (get it?) of preachers leaving the pulpit as the Pimps in the Pulpit will be exposed? Maybe we can get rid of some of the polluted pulpits when these people and their crooked tactics are brought to light. Will this move by the Senate be the move that causes the cream to rise to the top? Will "real" ministers be left then? The modest, humble preachers who live no better than the sheep in their congregations they are charged with leading to their God? I certainly hope so.

This will be interesting as the Republican Senate investigates these guys and gals. A bunch of these ministers actually helped the Republicans get elected 4 years ago and they appear to now be biting the hands that fed them.